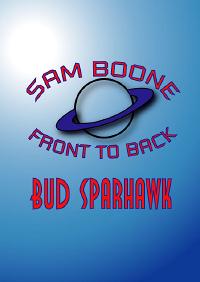 Click on the book cover to view a larger version.



Sam Boone Front to Back by Bud Sparhawk

---

Product Code: 0970971176
Price: $15.00
210 Pages
Trade Paperback


Straight from the pages of ANALOG come the rollicking adventures of Sam Boone, Galactic Hard-Luck Case Extraordinaire.

Here are the tales told forwards as they happened, not backwards as they were written -- or something like that. Confused? Don't worry. SAM BOONE: Front to Back includes a foreword, preface, and afterword by author Bud Sparhawk that should explain everything. More or less.





Print Edition Sales Links

You may order the print edition of Sam Boone Front to Back from FoxAcre Press, or from most major online booksellers. The links below will take you directly to the order links for this title.

These links will open in new browser windows.
---
If you're having problems with your order, e-mail us at foxinfo@foxacre.com.