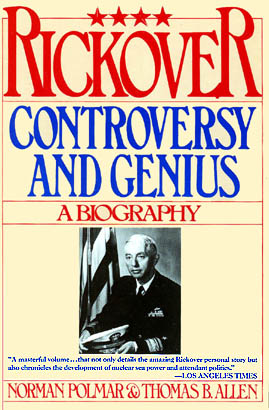 Click on the book cover to view a larger version.



Rickover by Norman Polmar and Thomas B. Allen

---

Product Code: AS0003
Price: $12.95
744 Pages
Trade Paperback


A stunning examimation of the life, career, accomplishments and blunders of one of the 20th century's most controversial military figures.

Admiral Hyman G. Rickover commanded the U.S. Navy's nuclear program for more than thirty years. His influence was so awesome that three of the seven presidents under whom he served wanted to get rid of him -- but could not.

Please Note these Special Shipping Rates for Rickover

Region
If First Item
Each Additional
USA via First Class/Priorty Mail
$8.00
$4.00
USA via Media Mail/Bound Printed Matter
$3.50
$2.00
Canada via Priority Mail
$9.00
$4.00
Mexico via Priority Mail
$9.00
$4.00
Outside North America via Air Mail/Global Priority Mail
$12.00
$5.00
Outside North America via Surface Mail
$10.00
$4.00

The item with the most expensive shipping charges in a given order is counted as the first item.




---
If you're having problems with your order, e-mail us at foxinfo@foxacre.com.