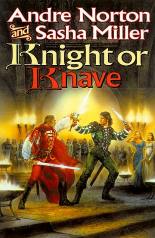 Click on the book cover to view a larger version.



Knight or Knave by Andre Norton and Sasha Miller

---

Product Code: AS0007
Price: $23.95
318 Pages
Hardcover


Volume Two of the The Cycle of Oak, Yew, Ash and Rowan. The old King is dead, and the foolish Prince Florian has assumed the throne. A young girl, Ashen, is the only force for good in the kingdom.

To keep her from the throne, it has been arranged to married off and sent far away. Ashen herself is eager to be away from predatory palace politics. But duty overwhelms desire, and draws her back to the courts of Rendelsham for the good of the kingdom.




---
If you're having problems with your order, e-mail us at foxinfo@foxacre.com.