List of Links from the Science Fiction Chronicle Article
The following is a list of links based on sites mentioned in Roger MacBride Allen's article on "D-Books for the Working Writer," to be published in February 2001 by the Science Fiction Chronicle. Websites mentioned in the article should all be listed, but additional links will be added as seems appropriate, and as useful sites come to light. We'll try to keeo this page up-to-date. Check back now and then to see if there are any additions, and visit pages listed on the D-Books.Net home page for further leads. (A given website will be mentioned in multiple pages as is appropriate.)
None of the lists below, sorted by topic, are meant to be exhaustive, but merely leads toward more information. This is a sampling of what is to be found, not all of it. Mere mention in this page is by no means an endorsement of a product, service, or company. I know some of these companies and people very well, and other I know very little about. This list will get you started, but do your own homework and form your own opinions.
Send email to roger@d-books.net if you have any questions, comments, suggestions, or leads to sites that should be on this list.
For starters, here is the article on doing Bare-Bones D-Books mentioned in the Chronicle article.
---
S.F. Publishers using d-book technology
www.foxacre.com Website of FoxAcre Press, the small press publisher operated by the articles's author.
www.wildsidepress.com Website of Wildside Press, friendly competitor to FoxAcre, run by John Betancourt.
www.otherworldslibrary.com Another sf&f oriented press using on-demand printing. No information known besides content of website.
www.parapublishing.com Website for Para Publishing, a excellent site for information on self-publishing.
---
Websites for various Publishing Service Providers (PSPs)
These are companies that will print and bind books on demand. Some will also sell the books through their websites, provide ISBNs, etc. Services vary widely, and change frequently. Check the sites themself for current services and policies.
On-Demand Printing Services
These are directed more toward service toward publishers, rather than individual writers. Authors who go the self-publishing route might well find these a better way to go. Many of the Publishing Service Providers listed above actually have their books printed by one of these companies. Lightning Source is by far the most prominent player in this field.
| | | |
| --- | --- | --- |
| Company Name | Website | Comments |
| Lightning Source Inc. | www.lightningsource.com | Subsidary of Ingram |
| Digitz.net | www.digitz.net | Independent |
| Sprout | www.sproutinfo.com | Very uninformative website, unless you have the password! More info at: 430 Tenth Street NW #S-007, Atlanta GA 30318; 404-892-9600; Fax: 404-881-1383 |
| Replica Books | www.replicabooks.com | Baker & Taylor's On-Demand Operation |
Software Maker
www.bluesquirrel.com is the website for Blue Squirrel Software, makers of the excellent Clickbook software, which does page imposition, resizing, rescaling, and a lot of other nifty tricks. This software will also let you (relatively) painless double-sided printer in a single-sided printer.
Office Supplier
www.quill.com is the website for Quill Office Supplies. They self pre-perfed paper suitable for creating two half-letter sized pages on one sheet of letter-sized paper.
Books and other resources
www.d-books.net is the home of this list of websites.
www.tinaja.com/bod01.html is Don Lancanster's page devoted to book-on-demand. Some material is dated, but still lots of good informatiom
Chuck Novicki runs Gigabooks www.gigabooks.net and sells hand-binding equipment and a book-binding manual, The Perfect Binding Handbook , for about $13.00. He also sells a booklet on doing hard-cover binding.
Dr. Rupert Evans has a website at http://www.staff.uiuc.edu/~r-evans4/home.html. He wrote a guide called Book-On-Demand Publishing. It is an excellent general source on d-book printing, though it can be difficult to track this book down. The best places to start searching for it are at Dr. Evans' web site, and at www.flashweb.com/Catalog.html. If you have trouble getting his book from Flashweb, email Dr. Evans directly at the address found on his site
U-Publish.com is both the title of the book and the website for this guide to self-publishing by means of on-demand printing. I have not yet read this book, but I plan to order it and take a look. I'll add comments here once I've seen it.
And then there is my book, A Quick Guide to Book-On-Demand Printing ,published by FoxAcre Press at www.foxacre.com.
Please write to me at roger@d-books.net if you have any questions, corrections, queries, or suggestions.
This website provided as a service by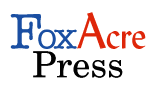 This page last updated February 14, 2001.