Crosstime Traffic
by Lawrence Watt-Evans

ISBN 0-9671783-6-3
Price $18.00
6 by 9 inch 272 pages
Science Fiction and Fantasy by
Hugo-Winning Author Lawrence Watt-Evans
Twenty tales of fantasy, science fiction, mystery, and adventure by Lawrence Watt-Evans, master of many genres. Includes an introduction by the author, the Hugo-winning story "Why I Left Harry's All-Night Hamburgers," a never-before-published bonus story, and a new afterword by the author.
To order one copy from our online store and view your shopping cart, click on this link. For information on how to order from FoxAcre via mail or fax, using a check or credit card, click here.
To learn more about Lawrence Watt-Evans, and learn
about the other titles of his published by FoxAcre, visit his Author Page.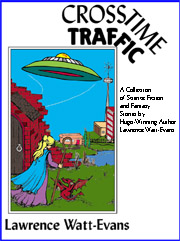 cover art by Kiri Evans et. al.
For an Acrobat PDF file of the introduction by the author,
click here.