The Crystal Crown
Brenda Clough

0-9709711-9-2
$16.00
232 pages
6x9 inch trade paper

NEW!
A Crown With a Mind of its Own...
When Liras-ven Tsormelezok set off into his garden that morning, he knew he could claim some sort of royal ancestry—but then, so could most of the rest of the population of Averidan. Therefore, being named King while pruning his klimflower vines was a trifle unexpected. But that was only the first of the surprises waiting for Liras. For example, he discovered that the Crystal Crown of the Kings of Averidan could not only speak to him—it could kill him, if it decided he shouldn't be king. And then were certain other inheritances from the late king: a war about which he knew nothing, and a royal bride-to-be with whom he could not speak. No wonder Liras decided to make a run for it...
To order one copy of THE CRYSTAL CROWN from FoxAcre's online web store
and view your shopping cart, click here!
The Crystal Crown is available from online retailers. Use these links to jump direct to the The Crystal Crown pages at these online booksellers:
FoxAcre Press
401 Ethan Allen Avenue
Takoma Park Maryland 20912
fax: (301) 560-2482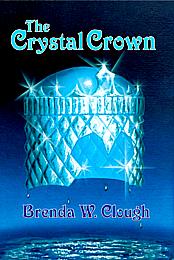 To view a larger version of the cover, click on the image above.

---
To view, download, or print out an Adobe Acrobat PDF file of the Introduction and Chapter One of THE CRYSTAL CROWN, click here.