Invaders from Earth

by
Robert Silverberg

ISBN 0-9671783-8-X
$12.00 152 pages
6x9 inch
trade paperback



Ted was a good company man, with the right sort of home, the right sort of wife, and the right sort of attitude when it came to following orders. So he didn't bat an eye when the Ganymede Corporation hired his firm to come up with a way to solve their little problem. It seems they'd discovered vast veins of power ore on Ganymede—but a population of utterly unreasonable aliens stood in the way. The good people of Earth wouldn't stand for a savage war of conquest—unless, of course, someone could convince them that the Gannys deserved it, or better still, that the Gannys had started it. And the man who could do that would be someone an awful lot like Ted . . .

To learn more about Robert Silverberg, and learn about other titles of his published by FoxAcre, visit his Author Page.

Jump to Ordering Information for information on how to order by fax with a credit card, or via U.S. mail with check, credit card, or mail order.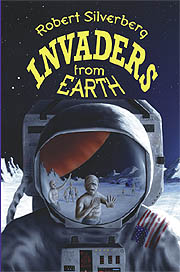 cover art by
N. Taylor Blanchard.
Click on the cover to see a larger version.