Master of Life and Death

by
Robert Silverberg

ISBN 0-9671783-9-8
$12.00 152 pages
6x9 inch
trade paperback
State-ordered infanticide, a hundred thousand Belgians shipped to Patagonia, the boss assassinated, one brother lovingly blackmailing another, the Venus expedition lost, the press howling for blood—it's just another day at the office for Roy Walton, assistant administrator of Popeek—the brand-new Bureau of Population Equalization. Popeek is lurching from disaster to disaster as it begins its desperate mission to save an overbreeding humanity from itself. But don't worry. Roy has a secret plan. In fact, he has dozens of them!
"Silverberg's success in maintaining complete clarity and narrative drive while manipulating unnumbered plots and complex concepts is a technical triumph, and results in a lively and enjoyable book."
—Anthony Boucher, The Magazine of Fantasy and Science Fiction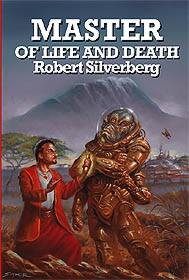 cover art by Stephen Snyder.
Click on the cover to see a larger version.