Shadow on the Stars
by Robert Silverberg

ISBN 0-9671783-7-1
6 by 9 inch 142 pages
$11.00
A THRILLING ADVENTURE that ranges across time and space, pitting one man against a invading alien horde that threatens a colony world, and against a hidden conspiracy to conquer Earth. Blair Ewing must battle Klondi hordes, Sirian plotters, the forces of history, and the nature of time itself. It's a lot to ask of one man -- but supposing there were more than one? Robert Silverberg's 1956 novel of space adventure and time travel returns to print in this FoxAcre Press edition.Includes an introduction by the author.
View an Acrobat PDF file of the Introduction and Two Sample Chapters.
To order one copy from our online store and view your shopping cart, click on this link. For information on how to order from FoxAcre via mail or fax, using a check or credit card, click here.
Click on the store name to go direct to the Shadow on the Stars
Order Page at Your Favorite Online Bookseller
To learn more about Robert Silverberg, and learn about other titles of his published by FoxAcre, visit his Author Page.
Originally published in book form as Stepsons of Terra.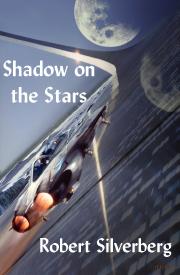 Click here or on the book cover for a larger image of
the cover design
cover art by Dave Seeley
FoxAcre Press
401 Ethan Allen Avenue
Takoma Park Maryland 20912
fax: (301) 560-2482