The Rebirth of Wonder
By Lawrence Watt-Evans
It's an odd-looking troupe that's renting Art Durham's small-town theather for the slow season. They don't want an audience for their rehearsals. They don't want technical help. They don't seem to rehearse from a script. And there's a door in the basement that Art can't remember having seen before. A door that leads to somewhere else...
Bonus! Includes the novella The Final Folly of Captain Dancy
Price $3.99 plus shipping and handling author's stock
To learn more about Lawrence Watt-Evans, and learn
about the other titles of his published by FoxAcre, visit his Author Page.
To order one copy of THE REBIRTH OF WONDER from FoxAcre's online catalog and view your shopping cart, click here!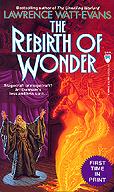 To see a larger image
of the cover, click here
or on the small
cover image above.