InterstellarNet: Enigma Part One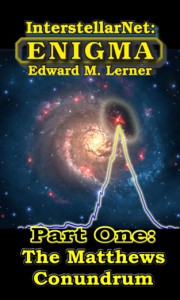 InterstellarNet: Enigma Part One — The Matthews Conundrum
Available in Epub, Mobi, and PDF format  — Scroll Down For Links

Here's a free sneak peek at Edward M. Lerner's exciting new science fiction novel, InterstellarNet: Enigma.
Historian Joshua Matthews has landed a terrific new position, and with it the opportunity to write the definitive history of the Interstellar Commerce Union. In those annals, he plans to focus attention-in his opinion, long overdue-on the improbability that an interstellar community even exists.
But somehow, returning home from the party thrown to celebrate his good fortune, he has lost a month of his life. Everyone is certain he's been away on an epic bender. And so, rather than promoted, he is disgraced, unemployed, unemployable … and unaware just how lucky he actually was.