Rave Reviews for InterstellarNet: Enigma
Dear Everybody,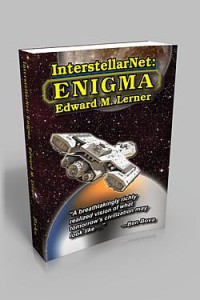 I have for many years joked that work as a freelancer consists of throwing forty loaves out into the water and hoping that one of them will come back. The same seems to apply to small-press publishing. You have to make a zillion efforts in hopes that one of them pays off.
For example, we undertook a major effort to get review copies of InterstellarNet: Enigma out to the appropriate parties, and then, suddenly — nothing much happened.
But, just now, suddenly again, months after we had thought it was Game Over with essentially no result, in roughly the span of a week, Ed's book was rewarded with three very positive reviews in three very prominent places. Herewith, quotes from all three, along with links to the full-length reviews.
From Asimov's Science Fiction
http://www.asimovs.com/current-issue/on-books/
(click on that link and scroll down a bit to find the review — and, obviously, after February 2016 is over, that link will point different reviews!)
"The plot builds on an entertaining answer to Joshua's question about the concentration of intelligent species in one corner of space, using it as a springboard for an interstellar adventure that has elements of space opera without abandoning a solid connection to known science. Lerner brings in a number of characters from several advanced species, giving them convincingly different motivations growing out of the nature of their societies.
"The author keeps the tale moving well, and gives enough back story so readers who've missed the earlier volumes won't get lost. And, in the best hard SF tradition, he provides lots of interesting world building along the way. A 'Behind the Scenes' afterword gives readers a look inside the science of one of the alien races, introduced into the series in this volume.
'…. If [Larry] Niven's style of SF is your idea of reading pleasure, here's an author you definitely need to check out. Good fun for fans of hard SF."
From Analog Science Fiction and Fact:
http://www.analogsf.com/2016_03/reflib.shtml
"….Edward M. Lerner is the quintessential Analog writer, combining well-researched scientific and technological speculation with compelling characters and thought-provoking plots. If you've read the two previous InterstellarNet books (Origins and New Order, both 2010), then you don't need me to tell you how satisfying this series is.
"If you've not had the pleasure, you have waiting for you a unique interstellar society of humans and some really cool aliens; an answer to the Fermi Paradox; philosophical questions of identity, power, and the place of humanity in the universe; and now some temporal travel thrown into the mix."
From Tangent Online:
http://www.tangentonline.com/component/content/article/280-novel-reviews/3043-interstellarnet-enigma-by-edward-m-lerner
"[Edward M. Lerner] is one of the best kept secrets in SF. [F]or those of us who follow SF more closely, have done so for a much longer period of time, and know Who's Who, Ed Lerner is right up there with the rest of the more well known hard SF authors known to the "outside world." Their loss is our gain, and with InterstellarNet: Enigma Ed Lerner has given his faithful readers another in an unbroken string of SF novels guaranteed to engage the intellect, to stretch the imagination and tickle the sense of wonder with a cleverly imagined Big SF idea, and keep the pages turning with a suspenseful mystery. An Ed Lerner book is always worth every penny you pay for it…always. And that's saying something these days, believe me."
Congratulations to Ed on this trifecta of well-deserved praise.