InterstellarNet titles revert to regular pricing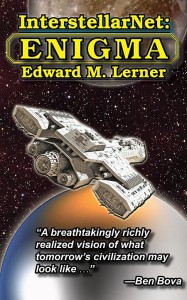 Just a quick note to say that the various titles in Ed Lerner's InterstellarNet series have now reverted to their regular (but still eminently reasonable!) prices. As discussed in previous posts, the special prices were but a temporary thing, and all such must come to an end.
One other quick note: we're only selling Parts One and Two of the serial of InterstellarNet: Enigma here on FoxBytes. Parts One Through Five are available on Amazon Kindle, Barnes & Noble Nook, and at the Apple iBooks iTunes store. This has to do with Digital Rights Management (DRM), a remarkably dull subject. Suffice to say that Parts One and Two (which were formerly free) don't have DRM, while Three to Five do have DRM, and for long involved reasons this means we're not selling them on FoxBytes. Visit the InterstellarNet Information Page at FoxAcre.com to get direct links to all five pars (and the complete book, and the previous volumes in the series) at all three of the aforementioned ebook vendors.