InterstellarNet: Enigma Wins Canopus Award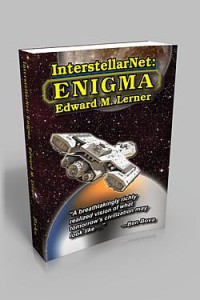 Edward M. Lerner's latest novel, InterstellarNet: Enigma has just won the Inaugural Canopus Award for Excellence in Interstellar Writing. The award is given by the 100 Year Star Ship (100YSS) organization "to works that contribute to the excitement, knowledge, and understanding of interstellar space exploration and travel."
Congratulations to Ed. FoxAcre Press is proud to be associated with this inaugural award.
For more on 100YSS and the award, see this link, and this one. To read the announcement regarding the winners, see the 1-/31/2015 entry at the 100YSS Press Page. For more on the InterstellarNet series, visit the InterstellarNet information page with direct purchase links to the title at major print and ebook sellers. Click here to go direct to the Amazon sales page for the print edition of InterstellarNet: Enigma, or the click here for the Kindle Edition.
All links open in new window.