InterstellarNet Information Page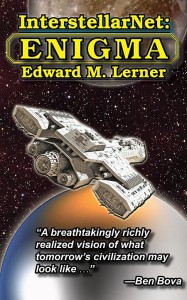 First Things First! Directly below, get free downloads of Parts One and Two of InterstellarNet: Enigma. Click on the titles for more details, or on the download buttons to get the files immediately.
Then, scroll down the page for more information on the InterstellarNet Series.
---
About the Series
InterstellarNet is Edward M. Lerner's immensely ambitious tale of the founding — and the very real growing pains — of humanity's First Contact with alien intelligence. Seen in large part through the multi-generational viewpoint of the Matthews family, the series tells the tale of how a true interstellar civilization arises.
In volume one, InterstellarNet: Origins, a faint whisper of a radio signal emerging from the darkness is all it takes to upend humanity's culture, technology, and worldview — and that is only the beginning. For there is not just one race of extremely alien aliens out there. More and more species around more and more stars join InterstellarNet, and each new member race is a new opportunity — and a new threat.
In volume two, InterstellarNet: New Order, Edward M. Lerner tackles the question of Second Contact. The InterstellarNet civilization is based on the assumption each member species is physically isolated from all the others, and that interstellar war is therefore impossible.  The distances between the stars are too great, and therefore there is not and never can be any threat of direct, in-person contact between the various InterstellarNet species. But it is the InterstellarNet itself which leads to the wreckage of that idea…
As volume three, InterstellarNet: Enigma opens, the human race is quite comfortable in its knowledge of what the other InterstellarNet races are like. However, the universe does not care if humanity is comfortable. Joshua Matthew, a distant ancestor of the first Matthews to guide policy toward alien contact, dares to ask how it all began. What starts as an interesting subject for academic research suddenly and most unexpectedly leads to the destruction of Joshua's reputation and career. A reporter hoping to resurrect her career with one last big story is his only and unlikely ally, until a cynical intel agent, stuck in a thankless job for the crime of not trusting the enemy, starts to track down not one, but two, deadly conspiracies.
InterstellarNet: Enigma is being published as an ebook serial, in an omnibus ebook edition, and in a printed paper edition. See FoxAcre's InterstellarNet Page for complete information and links to all the books and stories.